During this event,  three presentations of ALTERNATIVE partners and Sister Project LIFESAVER are planned.
The workshop will take place in Politecnico di Torino. The main goal this event is to showcase intermediate ALTERNATIVE results to regulators, researchers, industry and other stakeholders, initiating a dialogue with them about their requirements for exploiting ALTERNATIVE outcomes.
The event also stimulates the creation of a cluster of researchers/institutes which will collaborate in the advancement of 3D models, through different competences.
The draft programme is attached.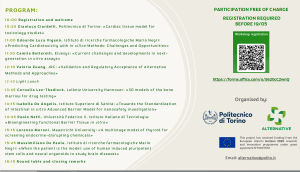 Contributors are:
Elvesys, which is also partner in the sister project "LIFESAVER", so they will present the advancement of their work in both projects.
Invited researchers active in the field of tissue/organ modeling: some of these are currently leading projects funded by EU
ALTERNATIVE advisory board, Valerie Zuang,(JRC) and Isabella De Angelis (Istituto Superiore di Sanità)
Keywords:
research and innovation networks, regulation of chemicals