The Institute of Clinical Physiology, National Research Council (CNR) of Pisa will participate at the XLV Congress of the Italian Association of Epidemiology (IAE) "Decision-making in a context of uncertainty: the role of epidemiology" will take place in Padua from 29 June to 01 July 2022 (https://www.epidemiologia.it/xlvi-convegno-aie-2022/). This congress intends to reflect on the role that epidemiology has played and can and must play in orienting decisions – at different levels – towards the promotion of public health without escaping the challenge of the complexity of the phenomena but rather equipping itself to recognize (and dealing with) the theme of uncertainty.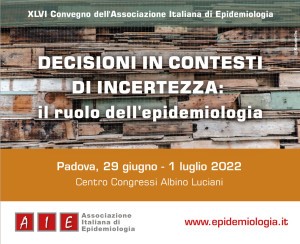 During the three-day event, CNR team members will present the systematic review and meta-analysis protocol in an electronic poster format. This review aims to provide a sound basis for selecting toxic chemicals and pollutants to contribute with the epidemiological evidence to the in-vitro testing protocol within the EU-funded ALTERNATIVE Project.
In this context, the team will exchange ideas and information on the ALTERNATIVE project, focusing on the specific research questions and the knowledge gap, which the systematic review will address.